Portable Antiquities of the Netherlands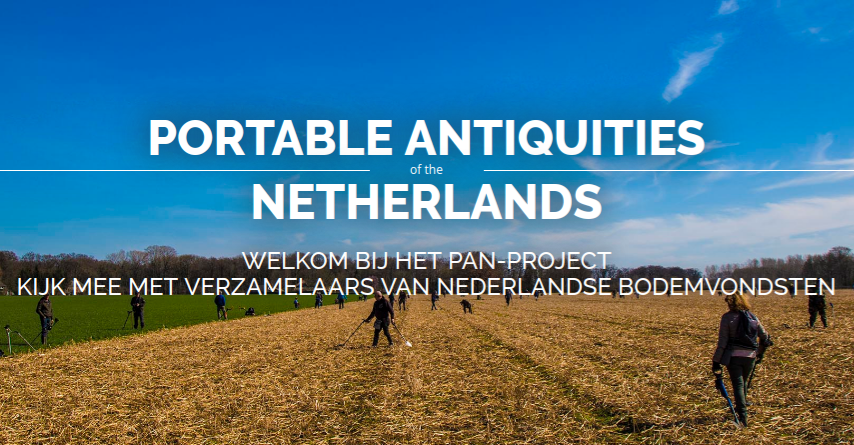 Free University of Amsterdam and Dutch Ministry of Cultural Heritage have created a database of portable finds from the Netherlands. Database called PAN – Portable Antiquities of Netherlands, was established in order to enable metal detectorists to record their finds and facilitate better contact with archaeologists and museum staff. Database of this kind was planned since 2016, when it was decided that metal detecting for archeological artefacts will be legal in the Netherlands. It is part of the North Sea Area Finds Recording Group and cooperates with many organisations, including Portable Antiquities Scheme in the United Kingdom and recent Medea Database in Belgium. On the PAN website finds are classified according to the time periods and there is also a facility for identification of artefacts as well as maps with finds in each region of the country: https://www.portable-antiquities.nl/pan/#/public
The aim of PAN is to document and publish finds of archaeological interest, mainly those of metal, found by members of the general public and in private collections. By publishing the collections online, the objects and their find locations are made available for heritage purposes, academic research, museums, and members of the general public to enjoy.
PROJECT PARTNERS
PAN is co-ordinated by the Vrije Universiteit Amsterdam (VU). The primary partners of the project are the National Heritage Agency (RCE), University of Leiden (UL), University of Groningen (RuG). Coin identifications are provided by the specialists of NUMIS, provided by De Nederlandsche Bank (DNB). Pilgrims badges are described by specialists from KUNERA, hosted by Radboud University (Nijmegen). Associations of volunteer (detector) archaeologists De Detectoramateur (DDA), Coinhunter Company (CC), the Archeologische Werkgemeenschap Nederland (AWN) as well as the online forum www.bodemvondstenwereld.nl support PAN. The Noordelijk Archeologisch Depot (NAD) at Nuis, the Fries Museum (Leeuwarden), the Gelders Archeologisch Centrum (GAC) liaised to Museum het Valkhof, as well as the Stichting Cultureel Erfgoed Zeeland (SCEZ) and ArcheoHotspots in several cities provide hospitality to PAN Find Liaison Officers. Landschap en Erfgoed Utrecht (LEU) and the provinces Noord-Brabant, Drenthe and Zeeland co-operate with PAN. PAN-finds are also stored at DANS-EASY, the national digital archive, which also makes PAN-finds available to Ariadne.
INTERNATIONAL CO-OPERATION
PAN is part of the North Sea Area Finds Recording Group, a cooperation of organizations aimed at archaeological finds registration. Other members are the Portable Antiquities Scheme in Engeland and Wales, MEDEA in Flanders and DIME in Denmark.
CONTACT
Would you like to report finds? Contact our Finds Liaison Officers.
Would you like to get access to restricted parts of PAN for research or do you have another question about PAN? Please e-mail pan.fgw@vu.nl.